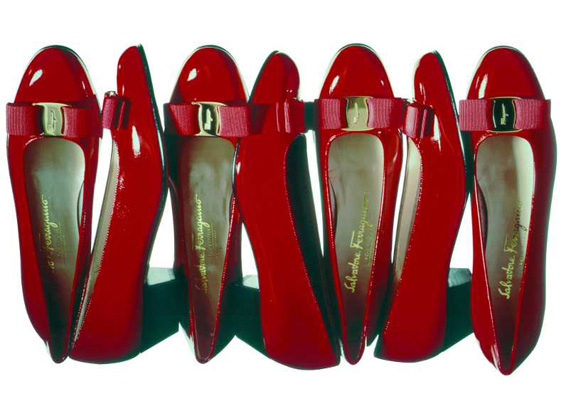 While Salvatore Ferragamo was the inventor of the cork wedge and the invisible sandal, the most famous shoe from the Italian leather goods house is the Vara pump. The Vara pump was actually designed by his daughter, Fiamma Di San Guiliano Ferragamo, in 1978. Although Salvatore Ferragamo died in 1960 and Fiamma in 1998, the business is still run by the family including Ferragamo's wife, Wanda Ferragamo Miletti. The Vara pump has a 3 inch heel and is best known for the grosgrain ribbon on the front. Variations of other names followed, with rosettes, buckles, and flat bows, in lieu of the grosgrain bow, or with lower heels, but the original Vara pump still remains one of the most classic, reliable designer shoes in 20th century fashion. I've got two pairs, and can confirm they are an awesome shoe.
Read more about Ferragamo's footwear inventions. Here's where to read more Fashion Classics.
I am on maternity leave until the February catwalk shows. I'll be checking in, but until I am back in action, please enjoy some little interviews with my favourite fashion folk, and a series called Fashion Classics, documenting some of the industry's most iconic garments and accessories.