Bora Aksu is alumni from the same year of the St. Martins MA in fashion design as me. Not only is he the nicest guy in the entire world, but he also has this incredible ability to build collections that successfully merge femininity with intricate detailing, stunning handwork, and a sense of rawness. His spring summer 2013 collection is no different.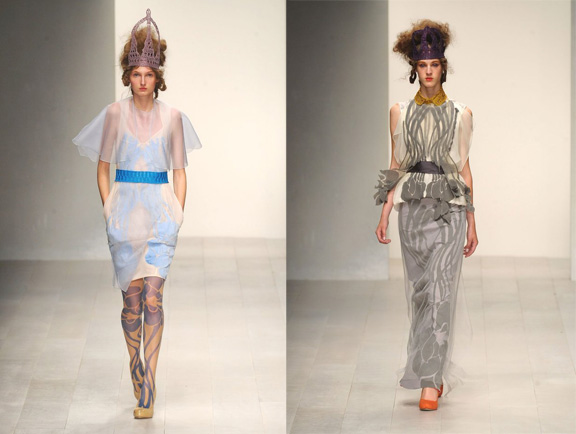 The thing I loathe most about the fashion industry right now is… that it's not about the knowledge, depth, concept or creativity, but it's about short cuts, tricks, celebrity endorsement, etc… Which is completely against what we were taught and believed so religously during our St. Martins days.
If I wasn't so busy, I'd love to spend more time… painting and illustrating…For me, drawing was the intial steps before I got into fashion, and when I was little I so enjoyed creating my own world through drawing for days and days..So would be great to get back into my first love.
The item I love the most in my SS13 collection is… the yellow drape dress (see below.) I enjoyed making this dress as the shape is so effortless but at the same time it s such complicated pattern that it was such a challenge.. I worked on it for so long but I had such great satisfaction when it was finished.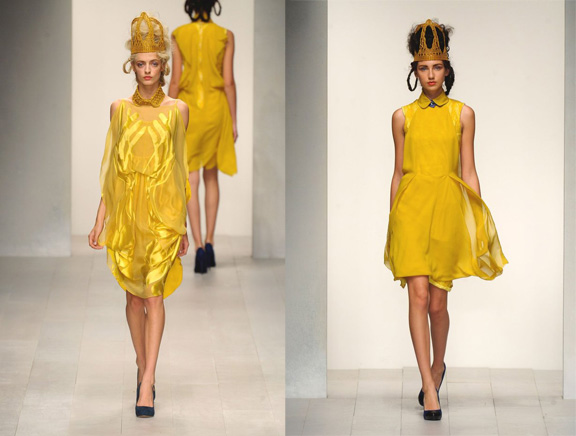 The thing I love most about London is… that London still has that hidden laid back approach which is very inspirational. You can walk to any street and can still find something new or inspiring.
The thing I loathe most about London is… that despite its eclectic charisma, it is very isolated.
I loathe that celebrities… think that fashion is such an easy hobby that anyone can have a clothing line without getting any sort of education or training (I'm referring to the ones who actually haven't achieved anything to become celebrities.)
I love my job because… I still feel that amateur spirit; the intimate buzz when I am designing.
Find Bora on his website and on Twitter.
Read more of my interviews with great fashion people.
I am on maternity leave until the February catwalk shows. I'll be checking in, but until I am back in action, please enjoy some little interviews with my favourite fashion folk, and a series called Fashion Classics, documenting some of the industry's most iconic garments and accessories.