BROUGHT TO YOU BY BON MARCHE
The midi skirt was a 'trend' a few seasons back, but I don't think it really caught on in a massive way, most likely because it can be a slightly unflattering when worn wrong. When I was watching Dexter last week, I was super inspired by this woman's outfit, which looks so pretty. She makes it look super retro, feminine, and effortless, and it has put me in the mood to try this cut over the next few months.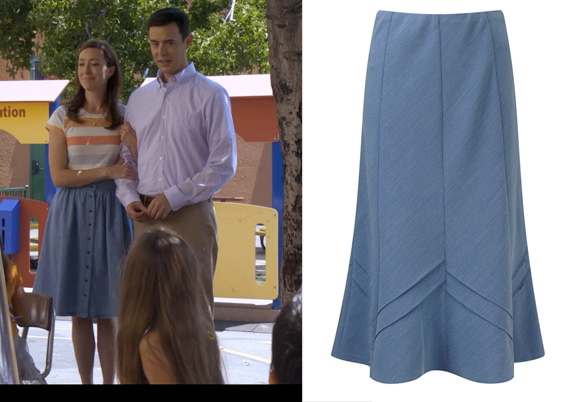 I love the idea of pairing one of these skirts with a t-shirt like the character; the blue pintuck skirt above would be great in summer. This cut, in a more formal fabric, would work with a ladies blouse for work.
The midi skirt is a great piece for spring, because as the weather warms up, you can wear this piece without tights, but the length will still keep your legs somewhat warm. And I'll use any excuse to get out of tights, which are one of my least favourite wardrobe items, ever. Pair it with a blouse, or a camisole and a little cardigan for spring, or with a tank for summer. The denim skirt above left and the grey paneled jersey skirt to the right could work throughout the whole year.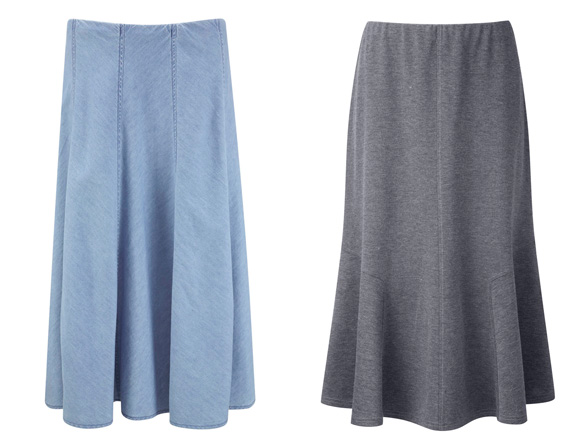 As far as styling goes, make sure to wear this cut of skirt with a top that is tucked in, you want to make sure your waist is the focus with this style, don't hide it. Try ballerina flats on the weekend, cork platforms in hot weather, or a chunky-heeled Mary Jane at the office, or a ballroom dancing shoe, which might put you in the mood to twirl. This skirt is perfect for that!
Above are a couple of great skirts from a selection of womens clothing at www.bonmarche.co.uk.
Film still from Dexter season six.