I went shopping a few weeks back (this is a rare occurrence because I am busy with kids and also trying to minimalize my life) and I took this photo waiting to pay for some kid's clothing at the local branch of one of the big fast fashion retailers. (I've blurred the logos but it doesn't take a genius to figure out where I was.) I was in a rush to meet my carpool, which prevented me having the time to break down into a full-body throbbing sob on the floor of the store. So I held back, and am now expressing my frustration by sharing with you the five reasons why this photo makes me want to cry.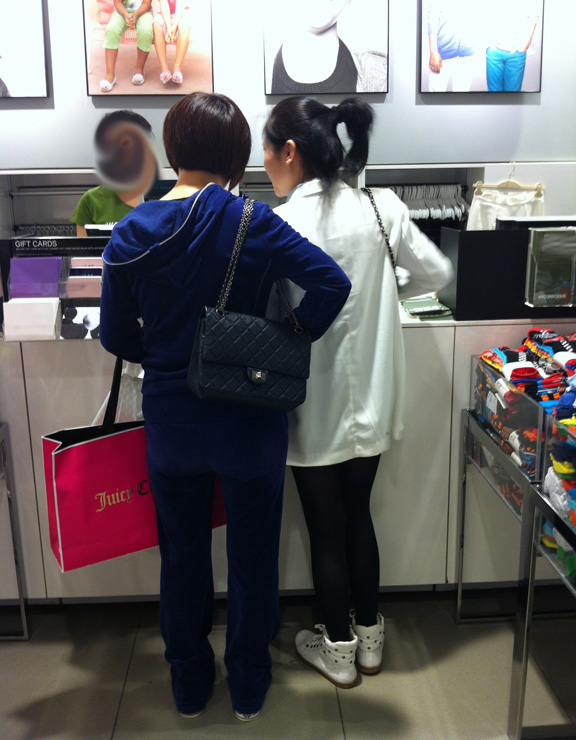 1. This woman was wearing a Juicy Couture tracksuit and carrying a Juicy Couture bag. Which implies that she shopped at Juicy Couture. THAT DAY. Not twelve years ago when the tracksuits were a huge (tragic) fashion trend. Not ten years ago when, despite the fact that they were INCREDIBLY tacky, people were still wearing the tracksuits. But this month. In 2013. She went to Juicy Couture and bought something. And wore a tracksuit. In public.
2. This woman is carrying a $5,000+ bag. Which is fine. Except said bag is being worn with a Juicy Couture tracksuit. Can Chanel not put a stop to this? Should they not have laws about pairing their bags with Juicy Couture?
3. This woman is 40+. And she is wearing a tracksuit. In public. This is not OK.
4. Did I mention she is wearing a Juicy Couture tracksuit?
5. That this is representative of how many women in Vancouver dress. Sadly, my Vancouver readers will not be dying of shock as they take in this terrifying scene, because it is not highly unusual. (I must note, however, that there are many stylish, well dressed people here. But they are outnumbered by people like this.) In a town where Ugg boots still sell like hot cakes (confirmed to me by a student who works in a shoe store), a woman over the age of 40 can be spotted shopping (in public) wearing a Juicy Couture velour tracksuit, with a Chanel 2.55 bag.
Now you can all cry with me.
Read about a disturbing Ugg boot disaster in Vancouver.