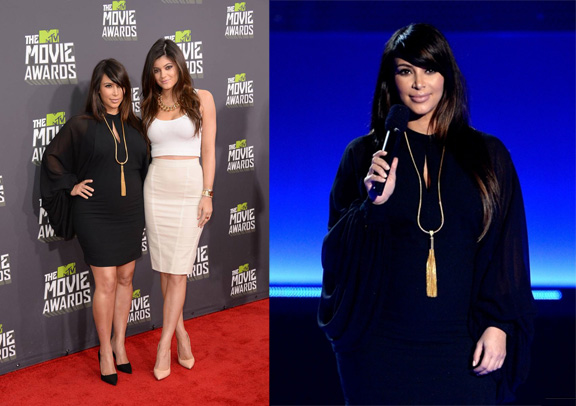 It is rare that I love anything about Kim Kardashian, but the fact that she wore Saint Laurent to the MTV awards earlier this week made me smile. Why? Because Hedi Slimane probably has his knickers all in a twist. I'm pretty sure he is not impressed with this move, given the lengths he has gone to control the publicity surrounding his brand. Ha ha! Let's hope Lindsey Lohan, Paris Hilton, and Snooki all make their way to the Saint Laurent boutique and stock up on his ugly collections. They can pair it with Louboutins, fake tan, and even faker boobs. Despite the hideous image that comes to mind, it would still look better than the way Slimane styled his last show…
Read about the time Hedi Slimane got mad at me.
And here's a disturbing article about how Hedi Slimane's Saint Laurent collections are actually selling. I hope this doesn't mean much, maybe Barney's sold 60% of the collection but they only ordered ten things?