I saw this infographic at Racked (in partnership with Beso) and it was a good wake up call and insight into real shoe shopping habits. I live in this fantasy world where I think $400 is a good price for a pair of shoes, and that it is normal to have at LEAST forty pairs of shoes. (I own eighty plus, although that might be set to change soon.)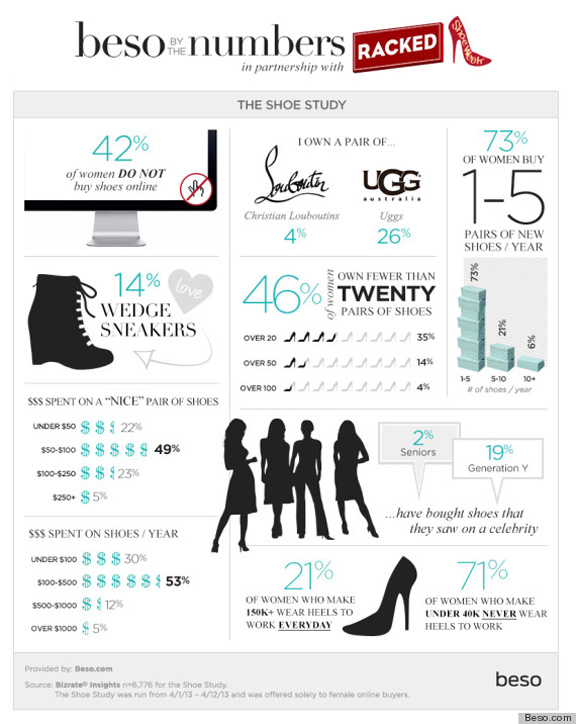 Of course you, my stylish readers, will most likely be on the same page as me, but when I saw these stats, I realised that my idea of a decent shoe price is very skewed. The respondents were female online shoppers, here are a few interesting numbers:
1. 49% spend between $50-$100 on a "nice" pair of shoes. $50?!?! That might get you a "nice" pair of Havaianas… And only 5% will spend over $250. I've got rubber boots worth more than $250!
2. 53% of women surveyed spend between $100 and $500 a year on shoes. I was having trouble understanding this… does this mean most of them only buy one shoe per year? Do they buy the other shoe, to complete the pair, the following year?
3. 26% of women own a pair of Uggs. Well, that discredits the entire survey, because it means that a quarter of the respondents'   have questionable taste in footwear. VERY questionable.
And while this post might sound incredibly snobby, this isn't only about the fact that people are buying cheap (and therefore probably tacky shoes) but it also comes down to the fact very cheap shoes are usually made from synthetic (read: petrochemicals) fabrics and the people making them are not paid a fair wage. Given the situation in Bangladesh, I think it is time that we all rethink these types of purchases.