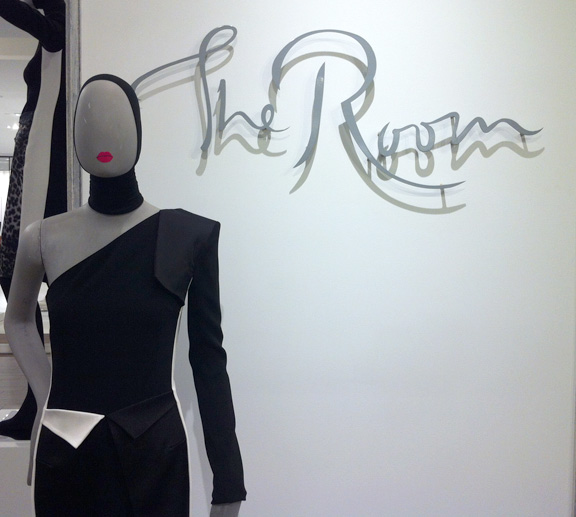 As with most interviews, I had no idea what to expect with Roland Mouret. I went into the interview of course wanting to ask him about Victoria Beckham and how she built her entire fashion "empire" based on a copy of one of his dresses – though I also figured that would sort of be off limits. But since the interview was so fantastic, I got to bring it up. Here's my transcript of Roland Mouret and I chatting about it-dresses, counterfeits, fashion schools and Victoria Beckham.
Alexandra Suhner Isenberg: I almost feel like you were the inventor of the It-dress. I hate to use that term, but I do feel like you have been one of the main designers behind the concept of the It-dress. Do you think that is still relevant?
Roland Mouret: I think that fashion is a reflection of society, of social politics. I remember when Anna Wintour told me "you reinvented the dress" and it is really important. I wake up in the morning, I turn on the TV, and anywhere in the world I see an anchorwoman wearing one of my dresses or a copy of one of my dresses. It is not just a dress, I created my own technique. You have to fit a dress, and the folding, there are the details that make a dress more than just a feminine product. I think I started to make the dress like a pair of jeans and I think it was why it became the It-dress ten years ago and I think it is still relevant. The dress makes the curves, it creates everything a woman wants around her body, but it is not something she is passive with.
ASI: You talk about seeing an anchor woman wearing one of your dresses, or a copy of one of your dresses, and I feel like like a lot of your dresses have been widely copied (Mouret laughs.) Do you see that in a positive or a negative way?
RM: There are days I think it is positive and days I think it is negative. To be honest, it is what our time is. It is the concept of communication, social media, everything is so rapid, so of course my clothes can be straight away ripped off at different price points. But I believe that the customer has a right to make a designer and that is why I try to deliver. People take more than what you want them to take from you. A fashion show is to give information, but you know straight away after that someone is copying the clothes.
ASI: I lecture in fashion and one of the columns on my blog is an advice column where people can write to me and ask me how to break into the industry. You don't have a formal ediucation. Do you think that it is harder and harder now, based on what you see, to do what you are doing without a formal education these days?
RM: Oh no, I don't think education is necessary to become a fashion designer. I think legacy is important, you have to learn what you are part of and experience it. You need to have drive and the ambition to succeed. If you go to St. Martins now, it is such a machine of producing students. The only thing they manage to produce is people who go straight to work on the high street, to understand the product of designer and to reinterpret it for the high street. Schools produce more of that attitude rather than people who come out and explode as designers. You still need years of learning experience to start your own business.
ASI: So basically you think you need those years of learning and experience, but it doesn't have to be in a school.
RM: No, it doesn't. I don't think school allows you to have that kind of bubble for three years where whatever you do, you are safe.
ASI: I feel like St. Martins, when I on the MA there ten years ago, did have that bubble. Maybe it has changed.
RM: I think it is still the same, when you see the show, it is a Louise Wilson (Course Director of the MA in Fashion Design) production. Take every student one by one, and ask them to work properly, and they are not ready. But I didn't go to school, and they say I am the student she never had. I think everybody has their own path, mine was not to go to school, mine was to go clubbing.
That was another thing, I didn't have enough money to go to school, I had to go clubbing. I chose to go to clubs in Paris. Every night. For ten years.
ASI: When you relaunched, you did the selling online of your collection immediately after the show, on Net-A-Porter. They have done that with a few brands, Halston and McQueen. Sometimes I feel like fashion becomes irrelevant because we get excited about something on the catwalk, but by the time it is in stores, we are bored of it. There is a lot of talk of changing the traditional fashion model, where do you see things headed?
RM: I think the beauty of time is the reinterpretation of what exists in the past. There are so many people that are at the level of thinking, because I can buy a collection, I can design a collection. I am really close to an amount of them, famous people, who think this. Everything is a reflection. I still sometimes design something, and I think is so relevant in the moment, and six months later, if I was a woman, I would think I would never buy that design, it is not right in my wardrobe. But for me, it was right six months ago, to express it on the catwalk, the volume and texture was my vision of society. After that, the clothes that you really want to own are part of your life and they are going to live with you.
I live in then countryside and I work in London. As a man, I love to have a piece of clothing that will start on the red carpet and that will end up on the back of the door of the shed. The same thing for my old cashmere sweaters, they end up in the cottage, for my friends visiting, they can wear them. Clothing must have that life.
ASI: I just want to say, I wasn't going to bring this up but I feel like you have been hinting at it, that one of my pet peeves is celebrity fashion. I just want to say that one of the things that makes me really upset about fashion is how Victoria Beckham has taken so many of your ideas. I just want to say that I…hate that.
RM: Because you love fashion. But at the the end, we all have our time. We all go through our time where we are young a famous and people want us, and then we age and we become institutions, and one day we have to learn that someday someone will come to take your place. I have seen it with other designers. from the eighties, so many designers, they were the heads of their time, and now they aren't. Victoria is just Victoria. one day it will happen to her, like all of us.
ASI: I count the days…
RM: You are a true fashion person. She is a reflection of society, you have to look at her like that.
ASI: That is what scares me.
RM: She represents the market.
ASI: I know. That makes me sad.
RM: We created that market in the eighties, the market of popular culture able to enter high end design. We accept that soap opera and reality TV could wear designer clothes.
ASI: You are right that just because you can buy a collection doesn't mean you can make a collection.
RM: But at the end, we accept Diane von Furstenberg, and Diane was a socialite, she was never a designer. And Diane has a good company, she understands fashion.
ASI: That is a very good point.
RM: Tom Ford never designed, he was a creative director. Victoria is a friend, I know the reality of Victoria, it will happen to her, what happens to everybody. One day someone else will come along.
Thanks to The Room, Nicholas Mellamphy, and The Hudson's Bay Company for inviting Roland to Vancouver and letting me interview him.
Catwalk images from Style.com, Victoria Beckham dress, and Victoria Beckham image source.