This is a new column where I can share some of the GEMS I get into my inbox. When a PR person sends me information about something utterly ridiculous, I either delete or write a "loathe" feature. This column is for the items or stories that are beyond a "loathe," the items are just so crazy they get the award of… press release of the month.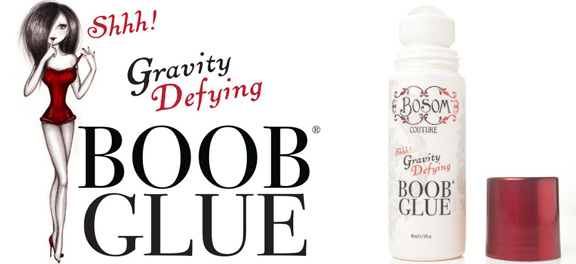 Subject Line: Ladies….It Has Arrived!!
 (Yes, there was a smiley face IN THE SUBJECT LINE.)
Product: Boob Glue – New roll-on breast adhesive may be the "breast lift in a bottle" women of all fabulous shapes and sizes are looking for. (I suppose if you aren't a fabulous size you can't use this product.)
The Details: The highly anticipated Bosom Couture's Boob Glue® is officially launched, and we can't wait to get our hands (and breasts) on the hottest new go-to beauty product of 2013! This gravity-defying breast adhesive esthetically enhances the breasts by positioning them exactly (and we do mean exactly) where you want them, preventing them from shifting throughout the day or night. (Don't you hate it when your boob ends up in your sock at the end of the night?) Once in position, they are there to stay. No escaping up and out, no sagging to the side, no drifting down or slipping out from under. For $34.95, this "breast lift in a bottle" (already adored by "A" list celebrities on the red carpet this season) could be just the boost you are so ready for. (I love the way we aren't just ready for it, we are SO ready for it. And that boobs "escape" places. Those crazy rebels!)
My Thoughts: Why not just get a bra that holds your boobs in place? If you are wearing a dress that doesn't allow a bra, I think the stick on bras might be a much safer option. And what happens if things get romantic and you want to take your bra off? Won't it be weird that your boobs are all sticky and not moving anywhere?
Ridiculousness Score: 6/10. While this IS a pretty silly product – with a terrible name – I guess it could be useful… to someone… with boobs that just don't stay in place.
P.S. I am getting so much good stuff into my inbox, you might see this column more than once a month!