Preparing for back to school isn't quite the same when you haven't had two months off (I have had a long break this summer, but sadly this won't repeat in the near future.) Regardless of whether you're starting a new term or just going to the same job you had last week, back to school requires some time spent organizing your wardrobe.
Throughout the slow process of my conversion (or attempt) to becoming a minimalist, I've become so much more conscious about the clothes I buy and how I build my wardrobe. Fall and winter are important times for fashion, new collections are coming out and we all feel the urge to buy new things. While I don't intend on buying a lot of new things, I do intend on picking up a few essentials, but the bulk of my back to school wardrobe will be about shopping from my closet.
Here are my ten back to school fall must-haves.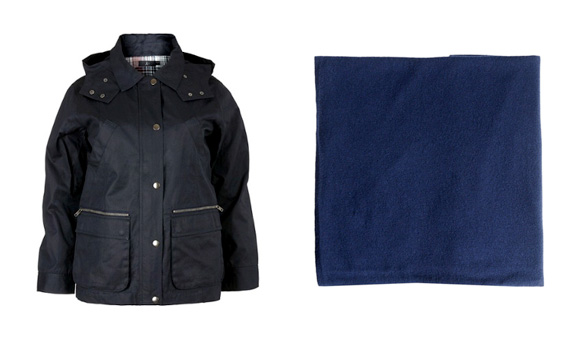 1. The oil cloth parka. While last year may have been the year of the parka, let's not kid ourselves; it's a classic wardrobe piece and great for those of us who live in moderate climates (with a lot of rainfall). Wear it over a shirt in the fall, and layer cashmere under it in the winter.
2. A large, lightweight winter shawl. After my summer jaunts around Europe, I am back into travel mode and appreciate a wonderful shawl that can be used as a scarf, shawl, blanket, and can easily be stuffed into a bag. Cashmere or pashmina blends are ideal as they are warm and light.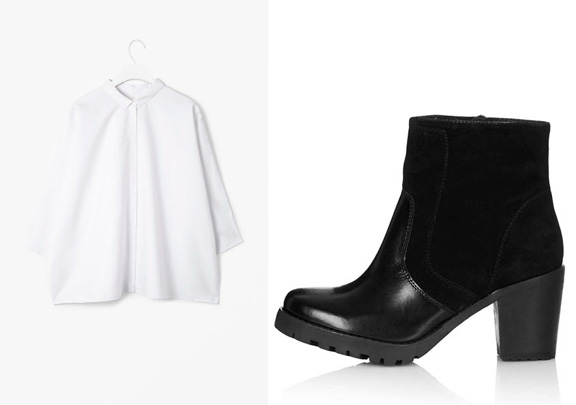 3. The big shirt. The perfect transition piece from summer to fall; I am in the mood for a loose cotton shirt – a great version of the timeless classic.
4. A rubber heeled slip-on ankle boot. I bought a pair of chunky platform ankle boots last winter when I was pregnant and needed something warm I could slip on. This year, I'll still be making good use of them worn with slouched down knee socks and skinny jeans or mini skirts.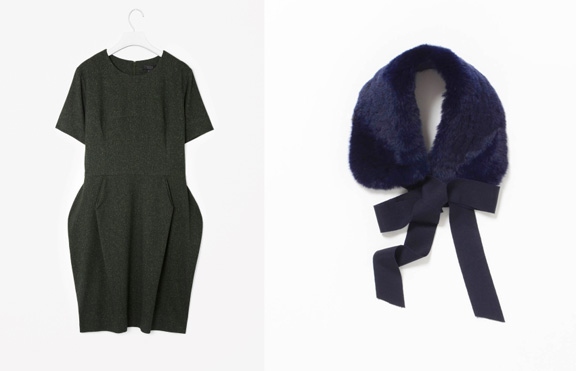 5. The wool day dress. I love a simple, easy wool day dress because it requires no thought in the mornings (wear it with tights and flat knee high boots) and you can accessorize it with chunky costume jewelry for cocktail.
6. A coloured fur collar. How can I talk about winter fashion without mentioning fur? A fur collar's versatility is endless. Wear it on a coat, over a cardigan, pinned with a big brooch, or with a dress in the evening. I like coloured and textured fur this season, but choose a classic colour so it will last for years.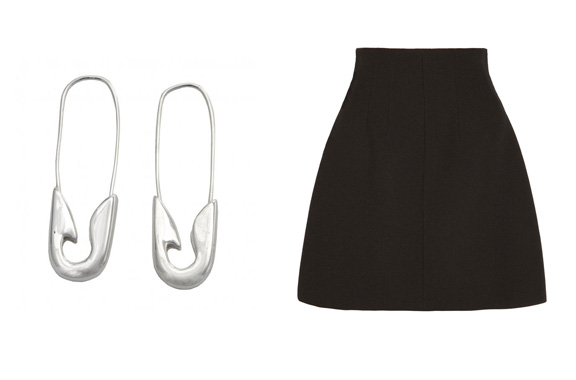 7. Your go-to earrings. I bought these safety pin earrings a few months back and I love them. I wear them nearly every day, and they match almost everything. I love a great piece of jewelry that requires no thought.
8. A black mini skirt. Sadly, my days of wearing ultra-short mini skirts with bare legs are over (I feel like I am too old), but I will definitely be wearing them in the winter with thick tights, slouched socks, chunky boots, and oversized sweaters and cardigans.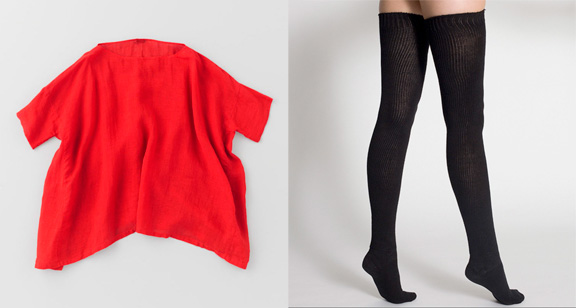 9. An oversized jumper. Who doesn't love a big cozy winter sweater? I'm still searching for mine, but it will be wool or cashmere blended with cotton (I don't live in the arctic) and it will have skinny sleeves and a big, loose body.
10. A pair of knee socks. Chunky ankle boots and tights always look weird to me, so I like to add a chunky knee high sock (slouched down) so you don't have a skinny ankle directly meeting a chunky boot. I also like knee socks worn pulled up over skinny jeans with a knee high boot.
Your life demands super fast absorbency and max protection. Now you can get both in one pad. U by Kotex clean feel. Try it for yourself!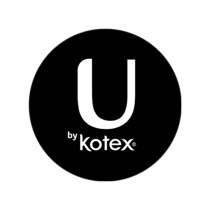 Disclosure: This post was brought to you by U By Kotex opinions expressed herein are those of the author and are not indicative of the opinions or positions of U By Kotex®.
Images sources: oversized sweater, parka, socks, Big shirt, mini skirt, Earrings, Day dress, fur collar, boot, and shawl.