If there was ever a designer collaboration that reeked of desperation, it is L'Agent by Agent Provocateur by Penelope and Monica Cruz. I can't understand why it happened, and now that I see the designs, I realize it is a total waste of space. Here's why.
1. Penelope Cruz is totally not on-brand with Agent Provocateur. AP has always been so good at focusing on their British heritage, and using a lot of British models and collaborators (Kylie Miniqgue aside, but that was a long time ago.) How does Penelope Cruz fit into this picture? And her sister?!?! They don't.
2. It is being described as a team project. "Their long-awaited collection, designed under the creative direction of Agent Provocateur's Sarah Shotton, is stuffed with colorful…" (The Cut) So basically, Sarah Shotton designed this and the Cruz sisters looked it over and said "Yeah, that works." This is why I hate celebrity collaborations!
3. They used a pregnant Monica Cruz in the horrible promo video. Really? Aren't we sick of pregnant celebrities, not to mention those in lingerie? I am so tired of hearing about famous people's babies, pregnant bodies, post pregnant bodies, and the last thing I want to see is another pregnant woman modeling lingerie. Yes, you are about to have a child. Yes, you have a pretty face. Yes, you have a big stomach. BUT WE AREN'T INTERESTED. (Here is a link to the utterly boring one-minute video – think girls writhing in lingerie with a guy in a suit walking around, there is a six minute version, too, but don't waste that six minutes of your life.)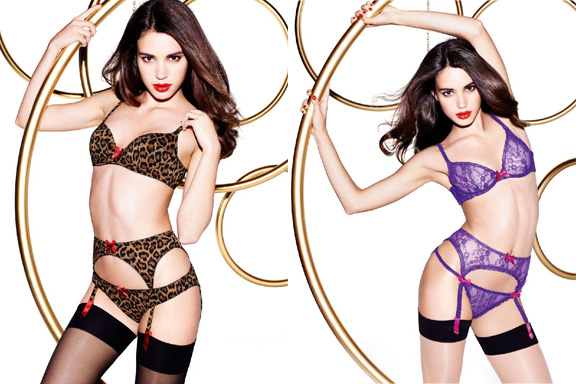 4. The designs are nothing special. They look like a mix between Agent Provocateur's main line (this is part of their diffusion line, L'Agent by Agent Provocateur) and cheap stuff you find in LaSenza.
5. The price points are too high. My experience with Agent Provocateur's quality is not good – it has all fallen apart and not fit well at all. Given the price point, this is not acceptable. I am presuming (which is safe to do, since this is a diffusion line) that the quality will be lower in the L'Agent range, and since the bras cost between $66 and the panties $82, I'd just suggest you go to LaSenza, which is pretty much selling the same thing – see below. (And all of their bras are buy one get one 50% off or $10 off. You do the maths.)
I'm guessing Agent Provocateur, which is now owned by a big venture capital fund and not the founders, is probably desperate to reminding people about how sexy their lingerie is (we got bored of it, right?) and this was the only celebrity they could find. And of course, Penelope was like "Hey, you can have me, but you have to let my sister do this with me, because she is riding on my coattails." Yup.
Buy the collection (or don't buy it) on Net A Porter.