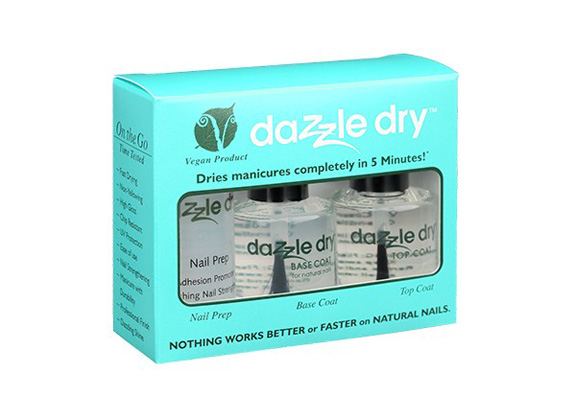 When I was first told about Dazzle Dry, it sounded like the most exciting nail product in the entire world. High gloss, strengthens nails, no chips for four weeks, quick dry, etc… As with most products, it didn't do exactly what it said on the package, but, and this is a big BUT, this is still one of the best nail products I've ever used. Dazzle Dry features 3 piece nail system including a "nail prep," a base coat, and a top coat. You can also buy their own brand polishes, but I have often used my own polishes and that works fine.
While Dazzle Dry certainly did not last four weeks, it lasted five days without a single chip, and you can easily get away with wearing it for a week (I took mine off yesterday after a week, and there were a few tiny chips. Let's be honest here, if you don't have a gel or acrylic manicure, you are lucky to go chip-free for three days. Right?) Also, it does dry super fast and it stays very glossy. I can do my nails using the Dazzle Dry system plus a polish from any brand in fifteen minutes, and then leave the house and not worry about smudges. Add vegan and non-toxic to the list of features, and Dazzle Dry is a winner in my beauty book.
Buy it in Canada at Beauty Mark or in the US at their online store.