EXTRA EDITION – THIS COULDN'T WAIT UNTIL NEXT MONTH!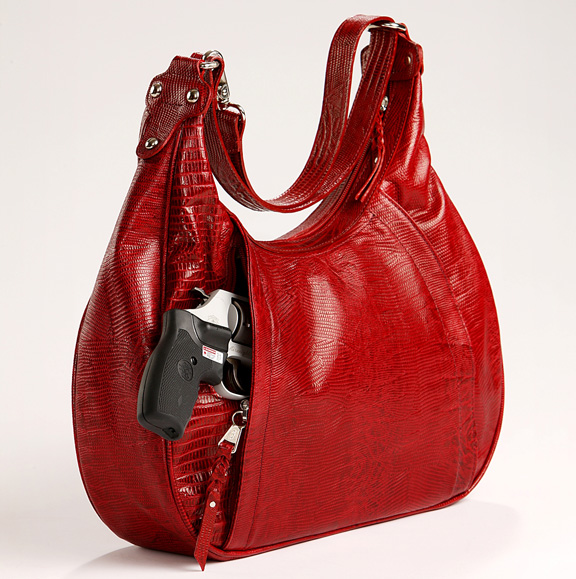 Subject Line: Fashion Focused on Self Defense
The Product: Fashion that fits any lifestyle. Holster that fits any handgun. (These are basically handbags that allow you to easily access your concealed firearm. And there's inside pockets for easy access to a baton or pepper spray.)
The Details: Major cities are known for having concentrated crime and violence against women (Really? Stockholm is a major city, and there isn't a lot of violence against women. Neither is there in Vancouver. Maybe this should have read "major AMERICAN cities.") With public transportation and walking often being a woman's only choices for getting to and from somewhere, they can become prime targets for attacks (I guess these major cities don't have taxis. That's strange.) Wearing a bulky holster on your way home from work can make women look even more like a target (Yeah, I find that when I carry my holster my silhouette just gets SO bulky), but carrying a gun or mace safely in a purse can give women the confidence they need without attracting unwanted attention. The fashionable (no, they aren't), high end hand-crafted bags from Designer Concealed Carry offer a woman on-the-go with a stylish option for protecting herself.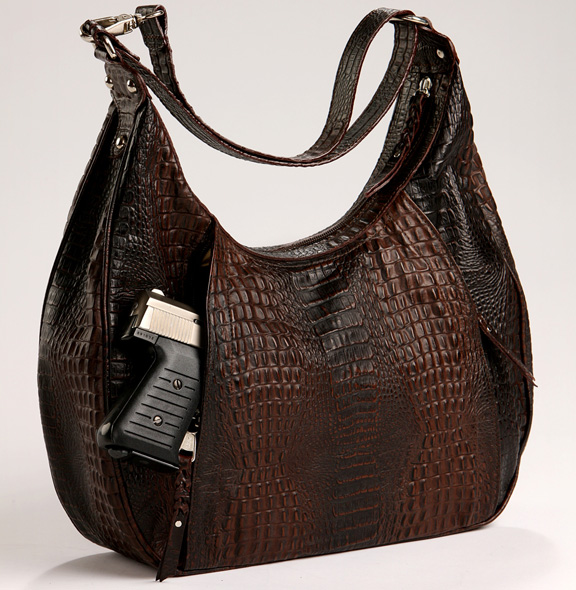 Kate Woolstenhulme, founder of Designer Concealed Carry, wanted to safely carry her gun for protection while walking the streets of Miami each day, but could not find anything that kept her gun at the ready while keeping her gun at her side. (I hope Kate has had appropriate firearm training if she is going to be carrying a gun each day. And is this REALLY necessary in Miami? Even on your way to work?) Finding a better option than a holster, Kate created her own line of designer purses that keep your gun safely locked up yet at the ready for use. (These aren't so safely locked up that a child couldn't get to them when you put your bag down in the hallway. I can tell you right now that a zipper doesn't keep a kid out of a bag.) Designer Concealed Carry offers many beautiful and feminine options for women who want to look smart yet provide the safety of a gun at their side in a quality designer bag. The bags have dual locking zippers for right or left handed access to exterior holster pocket. The holster is removable, fully adjustable, with quick release retention straps.
My Thoughts: Sigh. Where do I start? First of all, I wish PR's would actually take the time to check that I am based in Canada, and therefore carrying a gun around in your bag is both unnecessary, and illegal. Second of all, I hate the gratuitous use of the word "designer." Yes, I suppose these could technically be called designer as they may have been designed by a designer, but we all know in the fashion world that designer usually implies "famous designer brand." Not crappy gun bag brand. And lastly, I'd like to suggest that rather than designing ugly bags, the founder spend her time fighting for better gun laws in her country, so that when her kids' kids grow up, they don't have to live in fear of being gunned down on a street, or even worse, in a school.
Ridiculousness Score: 8.5/10. This is a sad and harsh reality about life in some parts of the United States. (This was an 8/10, but then I watched the dramatization.)