Ask Alexandra is my advice column. Have a question you want to ask me? Fill out the form here.
Hi Alexandra,
Ever since I was born I could pick up a pencil and draw. The first thing I drew was a high heel I saw in a newspaper. Everyone loved it. All for the rest of my life I have been into fashion and drawing. I feel like I was made for this! When I was in middle school I was made fun of because of my talent and what I want to be. I am now 18 and in college hoping to transfer to Kent State next summer! I feel like I'm nowhere because my family is poor, I live in Michigan, I have no internships, and I have no contacts. The only person I met in the industry was a photographer named Tony from Vogue.
My parents are steering me away from fashion design because they say it's not good for me. But I feel like they don't understand. They think I want to be like Russel Simmons or Kimora Lee Simmons but no! I want to be like or surpass McQueen, Pugh, and Margiela. I have these visions and ideas of things people in the fashion business have never done. I want to revive the days of 90's couture shows like Mugler. It's just I feel it's a bit too late. I just want to know is it too late? Or if it isn't how do I start or where do I go to start? I'd really appreciate the feedback. I'm more determined than anybody!!! Thank you for reading.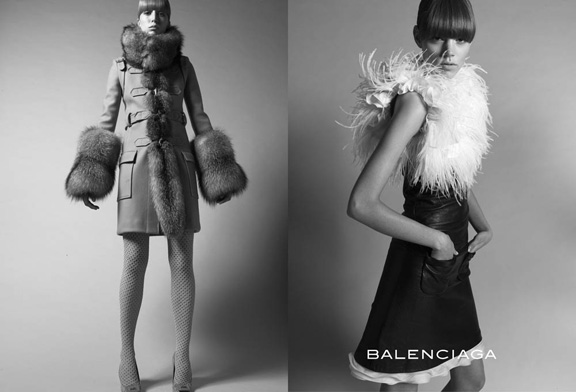 Hi Anthony,
This is such a touching letter, and the first thing I will say is that it is ABSOLUTELY NOT TOO LATE! You are only 18! EIGHTEEN! You have barely started! I will also say that you are right to think it is going to be difficult, but so many designers started like you, and made it. It sounds like you have the determination you will need.
That said, I have been sitting on this letter for weeks trying to figure out what to say to you. I wish I had the solution. I don't. It is harder today than it was ten, twenty, or thirty years ago, simply because there is more competition in the industry and post-secondary education is so expensive. I teach students who struggle to make ends meet, and I worry about them because I don't know how they are going to manage to find jobs that will pay them enough to pay off their student loans.
I don't know enough about your situation to be able to properly assess the best options for you, so here are a few suggestions. And please don't hesitate to get back in touch if you have more questions.
1. College is always a great option, if you can afford it. While you are there, make the most out of your experience. Network with the instructors, work super hard on your projects, immerse yourself in the local industry, and make it clear that you have the drive and talent to succeed. This means you'll be remembered, and instructors and industry will be more likely to recommend you for jobs.
2. Work in a high end fashion store. Whether it is a boutique or a department store, working with designer brands will not only make you more employable in the industry later on, but may even open doors for you. You'll meet store owners, buyers, learn about how the brands operate, and familiarize yourself with product. I have a friend who worked as a shop assistant for a luxury Japanese fashion company, and was promoted to visual merchandising and then ended up as a buyer for the brand.
3. Design, write, draw, collect, and get your work out there. Enter competitions. BLOG!! (Start a blog about Thierry Mugler and all the other wonderful designers from that era. I will read it!) Illustrate and get your illustrations out on social media. Show off your designs everywhere you can. The digital world has meant that there are more opportunities for designers and talent to get their work into the public eye, without relying on the support of a major company.
4. Intern. I know this is hard for someone who doesn't have a lot of resources, but do what you can. Can you move to a fashion city temporarily, work at a bar to pay rent, and intern? I'd like to think that decent companies will allow interns to work part time, so they can still have a bar job to pay their expenses (Sonia Rykiel did this for me because I was babysitting to pay my rent, and later, I ended up working for them as a designer.) Once you are in an internship, work your ASS off and show them you are the best thing to happen since sliced bread.
5. Reach out and network! I got this letter and have been thinking about it for months. You make me want to help you. I'm sure that if you sent similar things out to other people/designers/companies, etc… you will one day get a positive response. A lot of fashion industry people started out like you, and they will appreciate your background and your determination. And try and go to events and introduce yourself to people in the industry. What is the worst thing that can happen? They ignore you. So go for it.
6. Never give up. It is a tough world out there, and fashion is a very difficult industry to break into. I always tell my students to be realistic about their skills and their prospects. But although money and connections will get you places, the best tools you have are talent, determination, and the willingness to work hard.
Good luck Anthony! And please don't hesitate to get in touch if you need any more advice or help.
And P.S. The fact that you are 18 and you know who Margiela and 90's Mugler are means you are well on your way…