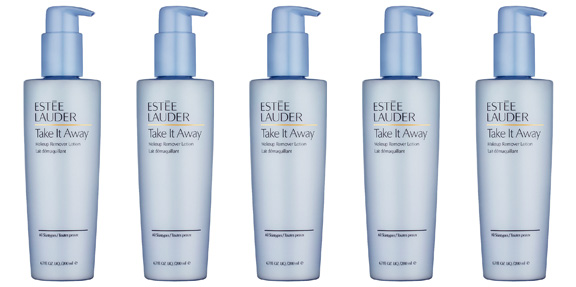 I'm quite fortunate (for now) not to have to wear a lot of makeup, which means that I have generally been quite lazy with make up removers. Up until a few months ago, I had been using a cheap eye makeup remover that didn't actually remove much of my makeup, or those makeup removing wipes, which don't work well and require a lot of rubbing. If you are tired of waking up with raccoon eyes after you supposedly took your makeup off, then I highly suggest trying Estee Lauder's Take It Away makeup remover.
You apply this product to dry skin and either rinse or tissue off. It actually removes waterproof cosmetics without a huge amount of rubbing, which is bad for skin, especially the delicate eye area. It also doesn't sting as much as the other products I have tried (although I don't suggest pouring it into your eye.) I've heard from foundation wearers that this product also works incredibly well to remove heavy face makeup. At $32, it is not cheap, but I'm all for spending money getting your makeup off, because I can't think of anything worse than having skin that has product residue on it, all the time.
As a blogger and fashion writer, I get a lot of free cosmetics and beauty products. Every year at Christmas I take all of the unopened and unused products and donate them to the Howe Sound Women's Center, who provides assistance for women in my area. This year I took this a bit further and reached out to some of my favourite beauty brands to donate a small selection of products. Thank you Estee Lauder for sending over a beautiful selection of beauty products for my donation to the Howe Sound Women's Center.
Buy it online here, or at one of their many cosmetic counters around the world.