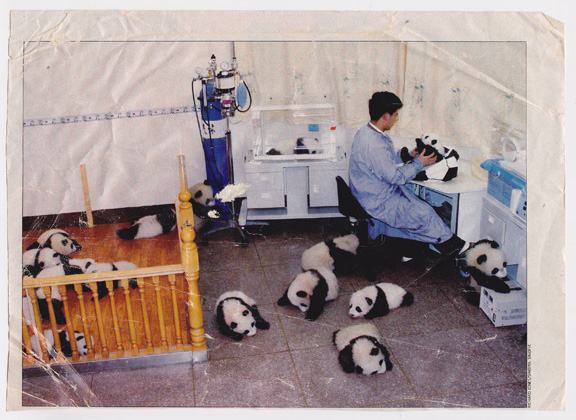 Today I'd like to share an image that I am obsessed with. About eight or nine years ago, The Guardian featured an article about the work China was doing to encourage pandas to reproduce, and it featured quite a few images of their facility. I cut out this image and had it on my fridge for a few years. When we moved to Canada, it was packed up and disappeared. I was thinking about it a few weeks ago when my son and I were looking for Youtube videos of baby pandas, and then suddenly my husband found it.
So here it is! I just love what is going on with this photo. There are a bunch of baby pandas napping in the playpen, one is in an incubator, another is playing with a weird piece of machinery. The mischievous one is going through some files in a drawer, and most of the ones who are trying to escape have gotten lazy and are taking a nap. Meanwhile, there is a man who is weighing or measuring one of the baby bears. What an amazing job! How could you not be happy all day, surrounded by these lovely little fuzzy babies?
I could – and have – spent hours staring at this photo, imagining the scene in motion and regretting not having visited this facility when I was a few hours away during a trip to China many years ago. I'm thrilled that the Chinese have had such great success with their panda breeding program. And I am obsessed with these lazy little bears. Happy Friday!