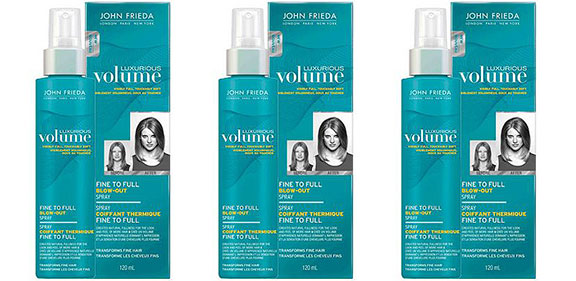 I rarely ever blow dry my hair, not because I don't need to, but because I am too lazy and don't have the time. That said, there is the occasional day when I have more than 30 seconds to do my hair, and when that rare occurrence happened a few weeks back, I used this John Frieda Luxurious Volume Fine to Full Blow Out Spray. There's really no point in spending 20 minutes blow drying your hair if you aren't going to get good results. For me, that involves having a decent blow drying technique (I could certainly use help in this area) and good product. This blow out spray not only adds volume and allows some control in the styling, but it is also fairly lightweight so your hair doesn't feel like a big solid mass of product.
And while I'm on the subject of John Frieda, I thought I should mention that their Touch Up Flyaway Tamer is one of my favourite hair products of all time, and sadly it is being discontinued next year. So I'm advising everyone to run out and buy a whole box of them because this product is the best thing I have ever used to control those annoying wisps of hair that stick out and ruin your do.
As a blogger and fashion writer, I get a lot of free cosmetics and beauty products. Every year at Christmas I take all of the unopened and unused products and donate them to the Howe Sound Women's Center, who provides assistance for women in my area. This year I took this a bit further and reached out to some of my favourite beauty brands to donate a small selection of products. Thank you John Frieda for sending over a beautiful selection of beauty products for my donation to the Howe Sound Women's Center.
John Frieda is available at most good drug stores.