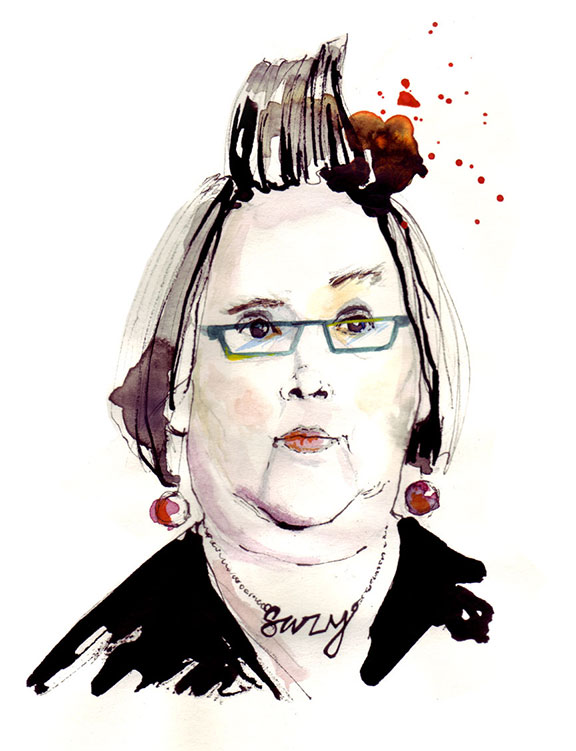 As usual, I was totally unimpressed by the British Fashion Awards (Christopher Kane's ugly collections get him Womenswear designer of the year?) but this quote from Suzy Menkes is worth mentioning.
"The people I'd really like to thank may surprise you. They are my editors from when I first started … The great thing about all those editors was that they simply couldn't imagine that any journalist could take anything that would harm their perception of how to write the story. In other words: no freebies, no free trips – [rules] that to this day I carry with me. But at that time, that's what all the editors did. And there has been something of a falling down in these recent years, and it's a difficult time for fashion, a difficult time for newspapers. But I do believe that those editors have instilled in me the feeling that it's right to step away, not to be too much in bed with designers, and never to accept things as presents. And I know this sounds very quaint and old-fashioned now, but it's something that I believe in deeply. Thank you to those editors and thank you to everyone who's been cheering me tonight." (The Cut)
As someone who has accepted swag from brands, I need to tread carefully when commenting on this, but I do think Menkes is absolutely right. So many fashion editors and bloggers are in the pockets of brands these days, and there is a huge lack of critical writing in the fashion media. Imagine how incredibly different the fashion blogs and magazines would be if they didn't have to (or want to) suck up to the brands who were buying advertising, paying them, or providing them with free stuff. The industry would change dramatically, and brands would need to demonstrate their value through their product and services. A shocking concept.
This quote only re-affirms my belief that Menkes is a dying breed. I admire her integrity, opinion, and work more than I do any other fashion journalist, editor, or writer, but what is going to happen when she retires? There are so few critics speaking their mind and not being swayed by big business, and few of them are very young. Hopefully I am just out of the loop and there are in fact a few budding critics who are going to take the reigns from Suzy Menkes, Cathy Horyn, and Robin Givhan and make sure that there is someone in the next generation who is speaking honestly about the fashion world. Here's hoping.
This illustration came from here.