While the Loewe Cruz bags aren't nearly as nausea-inducing as Penélope and Mónica's "collection" for Agent Provocateur, this is still pretty bad. I'd like to start by addressing the fact that I loathe when famous people let their family members get on for the ride. Mónica Cruz has barely any decent acting credits under her belt, yet her and her sister have "designed" for Mango, Agent Provocatuer, and Loewe? How about letting someone else, who has TALENT, have a go at designing, instead of it always being famous people and their relatives?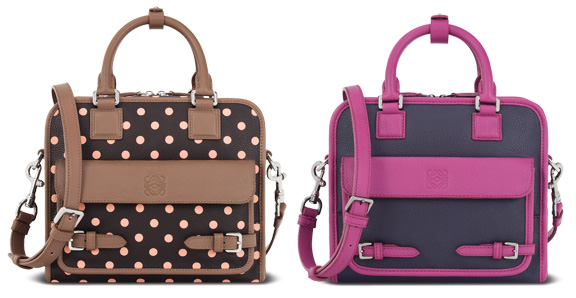 Secondly, these bags are ugly. They look like the type of thing you find in a Toys'r'Us when you are shopping for a cheap plastic handbag to gift to an eight year old girl. The one with the brown polka dots (€1,800 – yup) looks like something you'd get for free as a gift with purchase from a cosmetics company. And why is there hair stuck on their faces? Isn't the hair stylist supposed to sort this out during the photoshoot?
Images from Loewe.com.