I was reminded of Dover Street Market's incredible visual merchandising when I popped in there two weeks ago when I was in London, and so I decided I should share one of my most memorable fashion retail moments: Jamie Reid's window installation in 2008.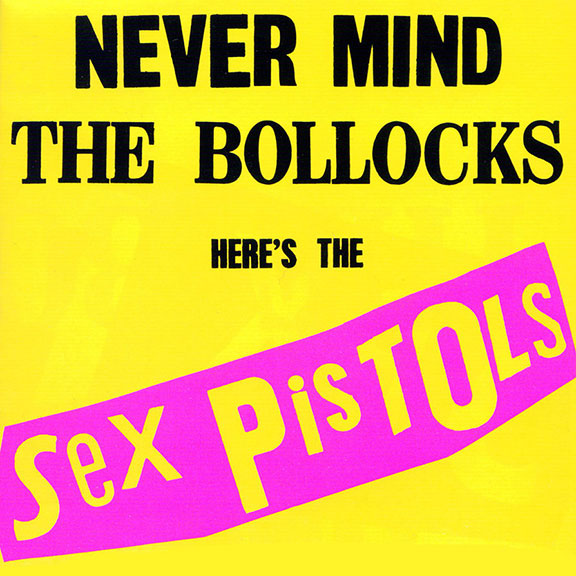 Let's start with some quick background on Jamie Reid, he is was the graphic designer and artist who is best known for his work that resembles ransom notes. He cut out letters of newspaper headlines and turned them into graphics, and was best known for designing the Sex Pistols' album cover for Never Mind the Bollocks (above.) I know it hardly looks groundbreaking now, but at the time, this was quite innovative design.
Anyway, Reid's project for Dover Street Market involved designing a bunch of posters and fly posting them all over the front of the building – and I mean ALL OVER. The windows were covered, the doors were covered, the store signs were barely visible, and it looked like an abandoned building. In context, this was really strange, given that Dover Street is the home to some fancy stores and galleries, and is not the type of street where a large building would look abandoned and covered in posters.
I turned up to the store that day was very surprised to find it in that state. Then someone came out of the doors, which was a signal that the store was indeed open. The posters had covered the entrance but they had been ripped through so that the doors could swing open. I walked into the store – and it was business as usual (although their idea of usual is certainly quite unusual.) I felt a bit uncomfortable in the store, given that I stood outside in utter confusion for a few minutes trying to figure out if they'd gone out of business – and I don't doubt that their intention was to make customers feel strange as they entered. While I wouldn't recommend this strategy for all retailers, Dover Street Market can get away with it and these kind of bizarre activities position them as one of the most exciting, innovative, and cool stores in the world. And I'm so thankful I got to see this, because apparently the whole thing got taken down three days later (which would make sense as I doubt it would have last long in London's rainy weather.)
Images sources: top image, second from bottom, bottom.