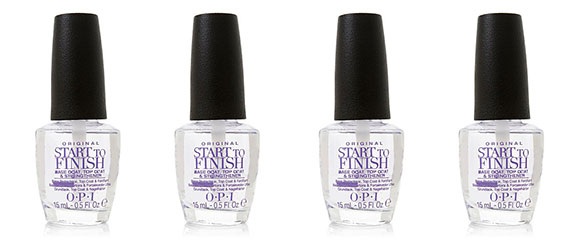 A few months ago when I was packing for Milan I realized (very stupidly) that I had shipped all my nail polish by container, and had none with me. I went out to stock up and found myself facing the old "do I bother with top coat and base coat" dilemma. I don't like to skip out on those things because nail polish stains your finger nails if you don't use base coat and it chips more if you don't use top coat. But who wants to travel with all those extra bottles?
Then I discovered OPI's Start to Finish, which is a top coat, base coat, and nail strengthener combined into one. As I'm a huge fan of their Nail Envy and their polishes, I knew this would be a great travel product. I bought it, along with a really small polish (who needs a big bottle of bright orange nail polish, right?) and it was the perfect solution for nice nails while traveling. I know that carrying an extra bottle of nail polish isn't exactly the end of the world, but I love when companies recognize the need for practicality and come up with useful products like this.
Around $12.95, depending on where you get it. Search retailers here.