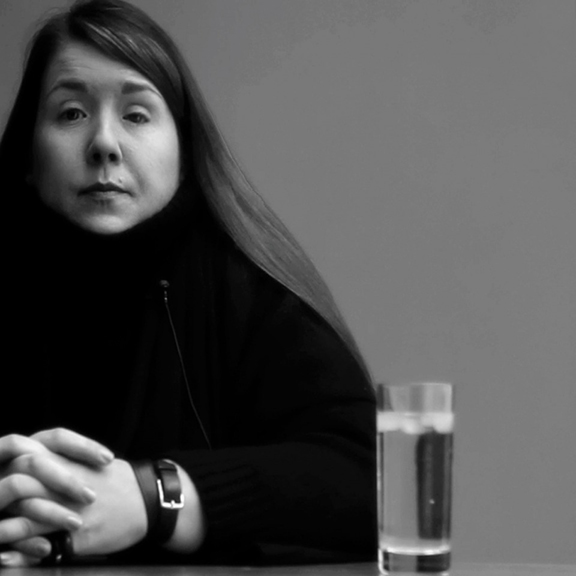 It's been two days now since Louise Wilson, the director of the prestigious MA Fashion course at London's Central Saint Martins, passed away and I have been thinking about what to write. As a former student, I count myself amongst a very small number of extremely privileged people who were trained by her. Instead of writing some sort of list like "5 things Louise Wilson taught me…," I decided to write down a few memories. Excuse the disorganized writing, she deserves better than this but I am having trouble putting my thoughts together properly.
Louise's reputation preceded her, but when I was applying for the MA, she wasn't nearly as famous as she has been in the past few years. I was a junior designer at Sonia Rykiel and three of my colleagues had attended St. Martins. Two of them told me I would have no problem getting in, and only one was smart enough to be brutally honest and warn me of how difficult it was to do the course, and how scary Louise could be.
I went to my interview with so much confidence and arrogance, I was 20 years old, had worked at a big design house, and had been lead to believe I would get in. When I arrived for my interview, there was someone ahead of me. She got called in shortly after I sat down, and ten minutes later, came out in tears. I went in, still strangely confident, and I am pretty sure that is what got me onto the course.
I had brought in an embarrassing portfolio of design work which she then proceeded to rip apart (verbally. I am sure she probably would have wanted to tear it up physically, as well, but that wasn't appropriate until I was officially a student on the course.) What saved me was the fact that I refuted her criticisms and stood up for myself. For half an hour, she told me I was shit, and for half an hour, I defended myself. I had a good feeling after our meeting, as I knew that if she really, truly thought I was shit, she wouldn't have spent half an hour telling me so. Her time was more valuable than that.
Louise taught us to show work that we were proud of, and defend it. If we couldn't defend it, then it was shit (well, most of the time, according to her, our work was shit but if we could stand behind it, maybe she would let it pass.) If you can't stand behind your work, then it's pointless. That's probably the most important lesson Louise ever taught me.
Some days I left tutorials or critiques in her office in tears, other days I felt elated (those were usually the ones when she only insulted me a few times.) She forced us to redo, rethink, and practice again and again and again until it was better. She pushed us to our limits and beyond, and while some people may claim that her practices (swearing, personal insults, throwing things at you) were not politically correct, I would say that her methods were the ones that produced the best results.
It's important to note that talent wasn't the only thing you needed to get onto the MA at St. Martins, and the school made it clear to rejected applicants that students needed to be the right "fit" for the course. "Fitting" in meant that we needed to have the personality that could handle being criticized, mocked, insulted, and kicked when we were down. And we needed to be the types of people who would thrive in that kind of environment.
In some ways, she was the ultimate Tiger Mom, never there to give you a hand to help you up. Instead, she would remind you of why you were there, how you fell down, and what do to get yourself back up. Louise was the best possible preparation for the fashion industry: she taught us how to present our work, how to accept criticism, and how to thrive in a high stress environment. She taught us that it is usually never good enough, and that we always needed to work harder. Praise came occasionally, but most of all, she would remind us that even if it was ok, it still could have been better.
"It's easier to do freaky deaky than to do real clothes." This was one of the most memorable things she ever told me, and it resonated as my graduating class featured clothes made out of plaster and garbage bags, while I made trench coats.
It was impossible to fool Louise, in fact, I considered her the all knowing. You could never sneak something by her. One day I had rushed to put together some research to show her, and she called me out immediately. "Let me guess, you went down to the library, pulled out a book of the photography aisle, and thought you'd just chuck a bunch of photocopies into a book and call it research." It was as if she'd had a spy in the library that morning.
And we were convinced that she had a hidden camera in our studios, because she always knew exactly what was going on upstairs. One morning, around 9:30am, she called up (there was a phone in our studio and it was terrifying to answer it because it was always her.) I answered, and when I said who was speaking, she said "Let me guess, Alice is on her fucking knitting machine, Avshalom is rearranging his desk to get better Feng Shui, and you and Mark and Kate are on your way to get coffee, AND NO ONE ELSE HAS EVEN COME IN YET." In that eighteen months, she got to know us better than most people ever will.
She told me I was fat. She told us we were a shit intake of students because we weren't getting drunk enough and having sex in random places in the school. She lamented the fact that we were all friends and reminisced about the years where students would steal each other's collections. Once I had a migraine and tried to postpone a tutorial. She got a tutor to lend me a pair of sunglasses, instead. One day she saw me in the halls with a a shipping bag from Agent Provocatuer. Her voice said "What's that? Done a bit of shopping?" while her eyes said "You had better not complain about not having enough money for fabric." I cowered. She taught us that it was rude not to come into her office with a cup of tea for her, and even ruder when we asked how she took her tea: "YOU SHOULD KNOW!" But while she would make fun of us, she would also make fun of herself. She once told me she didn't get to go to a major Donna Karan editorial shoot because it was in the arctic and "Patagonia doesn't make clothes big enough for fat people like me."
Despite the shouting and swearing, there were so many good moments with her. Usually it was at the expense of someone else, as she was great at making fun of people. Untouchable, yet strangely approachable when you needed her, Louise was honest, blunt, and straight to the point. She was there to train us, but made it very clear that we were to work fucking hard to leave that building with a diploma in our hands. Laziness was never, ever an option. And she fought for us, and for the future of fashion schools. She was the first to speak out about the lack of grants and the struggle students face today if they don't come from rich backgrounds.
To this day, her stamp of approval is still the highest in my book, and I am sure most of the graduates from the course will agree. A compliment from Louise was more valuable than anyone else in the industry. She was our everything during the course, and beyond. To this day, I still desperately sought her approval, and would have done anything to impress her.
I'm sad that I will never see her again. I'm sad that I'll never send her another letter. And I'm scared about what will happen to the course now that she is gone. She is like Karl Lagerfeld, totally irreplaceable. Sure, someone can take her place and do a good job, and do a different job, but no one will be able to do what she did. And that is sad, because she produced more talent than any other fashion course in the world.
"I absolutely loathe and hate the work," she said to The Guardian in 2010. "But I love youth. I realise how lucky it is being with youth, and what an honour that is. Nowhere else could a fat 47-year-old speak to people as young as this." No Louise, the honour was ours.
Image from Showstudio – and check out this amazing interview they have done with her.