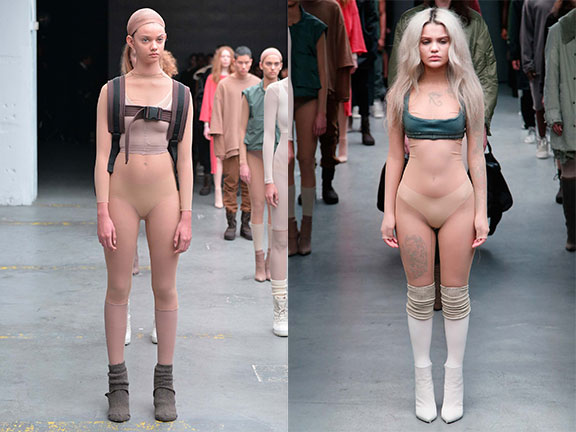 I had big plans to do catwalk coverage this season but it is not going to happen. I am massively busy with Spring 2015 deliveries and Fall 2015 sales of The Sleep Shirt, and I 'll be traveling during fashion week which means I don't have time to post regular coverage. I hope I am not disappointing anyone but my jaded-ness of the catwalk shows has reached epic levels and I think I will just look at everything and think it sucks.
Kind of like this show. I did have to write something here, not only because it was so hiedous, but because of what it represents.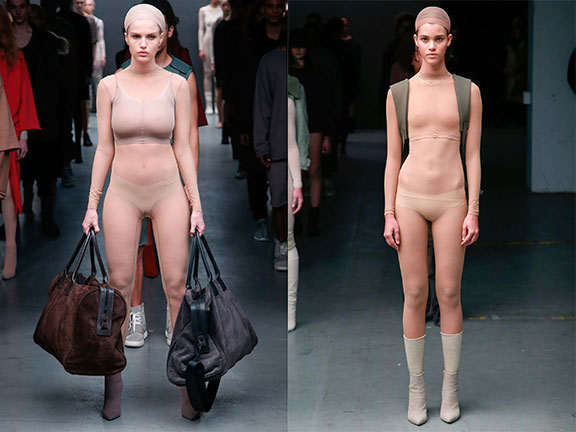 1. The fashion industry turned up. While I truly think that Kanye is a total twat and I wish he would just disappear off the face of the earth, I blame the fashion industry for feeding his ego. By turning up to his shows and (gasp!) complimenting it and actually treat him with even a milligram of respect, we enable him. He is an egotistical idiot with zero fashion talent yet the industry continue to legitimize his work. As long as respected industry figures turn up to his shows, he will keep this up. The only way to stop him is to stop paying attention. Maybe if we'd done that with Victoria Beckham she wouldn't have been allowed to build an empire based on her fame and a single tight dress design.
2. He uses race to legitimize himself in the fashion industry. He famously said "You know damn well there aren't no black guys or celebrities making no Louis Vuitton nothing." and people take note of comments like that because he highlights a very real issue in the fashion indsutry, which is the lack of diversity. However, this is no reason whatsoever for him to get credit he does not deserve, nor is this a reason why we should take him seriously as a designer. Just because he is black does not mean he deserves credit. If I were to suggest ways of increasing diversity within the fashion industry, I would start with getting rid of the rich and famous people who buy their way in, and I would also make fashion design education more accessible and necessary to break into the field. If that happened, we would most likely end up with more diversity, and we would be able to exclude imbeciles like Kanye and the other pathetic celebrities who force their way into the industry.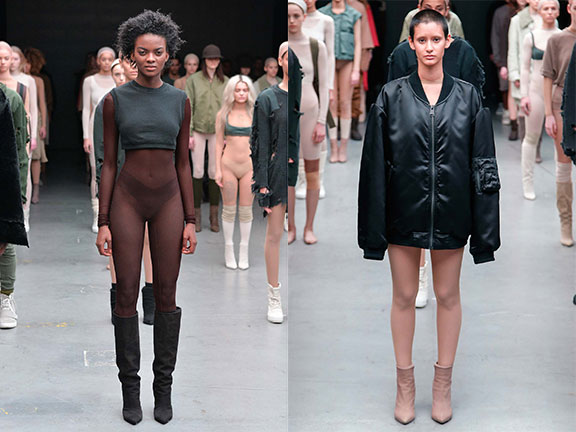 3. Vanessa Beecroft was involved. I used to love her work, she inspired my graduate collection and I am fascinated by her installations. Until this one. Now I think she is lame.
4. He has been designing this collection since 2011. Why is it that an idiot like Kanye can take four years to design a collection and receive credit for it, meanwhile the rest of the industry is forced to churn out a minimum of four collections a year and face criticism if they don't? Why is he allowed this luxury? And lastly, how in the hell can someone spend four years on anything and still end up with this piece of garbage???? Which brings me to my last point.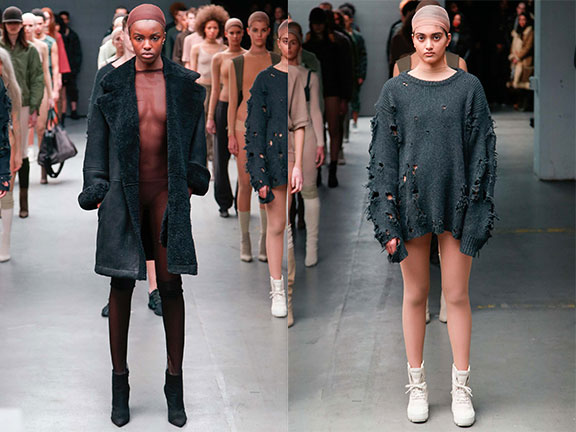 5. The collection is disgusting. The only way I can explain why anyone would wear these heinous tights as clothing is if they are a business woman who is too lazy to change when she goes to the gym so she strips down to her panty hose and works out in that.
Kanye, you suck and so does your ugly collection. And p.s. to Adidas – I am never buying anything from you again.
Images from Style.com.