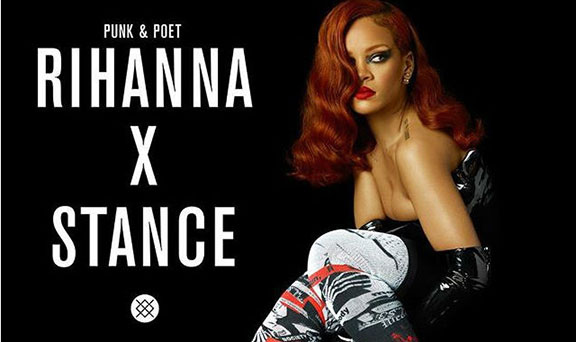 I'm used to reading about stupid fashion brand working with a celebrity on a "design" collaboration but it always hurts when it is a brand you actually like. Stance is a sock company that makes cool socks. I wouldn't exactly put them on my list of best brands ever, but I've bought their products and they are interesting, the quality is better than Happy Socks (my husband goes through a pair in a few weeks) and they seem like a generally cool company, until now.
This is a company that has done collaborations with brands like Minimale Animale (most sexy swimsuit company ever), Harley Davidson, and Laura Enever (Australian surfer.)
It's one thing to do a one off Rihanna sock, but Stance have gone further to name her Contributing Creative Director and Punk & Poet ambassador. First of all, what the f**k is a Punk & Poet ambassador? Why does a sock company need one?
Secondly, I'd like to know how Rihanna is juggling a career as a full time pop star, and sock creative director, and creative director at Puma (another once-cool brand I have dismissed thanks to their association with her) and a whole bunch of other things (including a new and tacky fragrance called Riri.) I'm going to guess she rocks up to their offices twice a year and her contract involves about ten minutes of work and a couple of Instagrams. The role of creative director is a sacred one, and does not get to be given to someone who probably doesn't do anything creative, or direct the brand.
It just makes me sad that so many companies feel like they have to stoop to these levels to gain publicity. And it makes me even sadder that the public actually responds to this kind of thing and it will probably bring loads of attention to the brand. I wish I lived in world where brands didn't need to sign on silly celebrities to make a name for themselves.