One the biggest challenges for small apparel businesses are wholesale sales. Fashion wholesale is about getting into the right doors and can be an excellent way to grow your business and get exposure, but it requires a lot of work and strategy . I've talked a bit about selling, but today I'd like to talk about what happens when a store expresses interest in buying your product.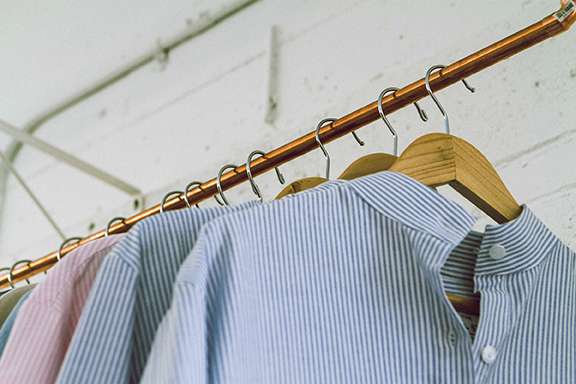 It is always very exciting when you get an order from a great store. But for me, it was immediately followed by stress. What size of order did they place? Will the brand do well? Have they chosen the right products? How do we ensure the sell through is going to be high? A big order from a big store comes with big stress, but negotiating the right terms can reduce future problems. Here are the terms you need to be negotiating when selling at wholesale:
Payment terms: will the company pay a deposit, use proforma or pre-ship terms, or have 30, 60 or even 90 days? Or perhaps they will ask for SOR?

Deposit: Deposits are usually 30% of the order, payable after order confirmation. The rest of the order could be paid for with terms or proforma.
Pre ship or proforma: this is when the customer pays when the goods are ready to be shipped, and then you ship immediately after receiving payment
30, 60, or 90 day terms: this give the retailer time to receive the product and start selling it. If you are going this route, be sure to confirm whether the terms start from when they have received the goods, or when you ship them. The earlier, the better, for obvious reasons.
SOR (sale or return) or consignment: when you ship the goods to a store and they pay you when they sell items. Do so at your own risk. You may never get paid, the goods may not be returned in good condition, or you might end up getting all of it back. The store will also not be very motivated to push your products, since they aren't under pressure to sell them. If you do decide to go this route, be sure to make it clear how often you expect sales reports, and impose terms of a maximum of ten days once you invoice.
COD: Cash or cheque on delivery is rarely used in fashion wholesale so I would advise against suggesting this.
The goal is always to get payment before shipping, and deposits are ideal to help you cover your production costs. However, if the order is small, then consider just doing 100% preship to avoid the administration of invoicing for a deposit and the balance.

Trade discount: sometimes companies will ask for a trade discount, it is normally department stores who have clout who can get away with this. In theory, they also have higher overheads, but I am not a fan of giving trade discounts and this should be avoided at all costs. Trade discounts can vary from 1-10%. My suggestions is to refuse them and only give in if it is a deal breaker.

Settlement discounts: settlement discounts are when retailers expect a discount if they pay within a certain time frame. In short, they want to be rewarded when they pay on time. (This is a great example of how badly brands are treated by retailers… but I digress…) Settlement discounts are usually from 1-5%, and are only eligible if the retailer pays on time. These are mostly imposed on brands by major department stores, and you should try to refuse them if you can. Stores should not need incentives to pay on time. If you are forced to accept one, make sure you make it clear that the funds need to be in your account by the time the payment is due, and keep an eye on it. If the funds do not show on the day the payment is due, inform the accounts team that they are no longer eligible for the settlement discount.
Payment method: There are a few standard ways that stores pay their suppliers.

Wire transfers: It is important to verify the cost of receiving wire transfers before you offer this as a payment method. Costs of sending wire transfers can be expensive for suppliers, so consider an alternative if you deal with small orders, and always be sure to include a term that all wire transfer fees (except for the fee your bank charges you to receive it) need to be covered by the supplier. Some department stores will not pay the wire fees, and this is unfortunate as they can get costly if the funds are being moved internationally. I would say try to make sure that the store  pays the fees but when you are dealing with department stores, you often don't get much of a choice.
Cheques: Some stores insist on them, others don't even use them. The upsides of cheques as there are no fees for depositing them, the downside is that post is slow and you need to go to the bank to deposit them.
Credit card: Many retailers like to pay by credit card as they get points and they pay no fees, however you will pay a fee to the credit card company, ranging from 2-3% on average. The upside to credit card payments is you can normally get the card number quickly as it isn't a lot of work for the store, but the downside is that it costs you a percentage of the transaction. Another downside is chargebacks, but I have never heard of those happening with wholesale orders.
Paypal: Paypal has similar fees to a credit card but is normally easier to set up than a merchant bank account. Like credit cards, Paypal always favours the buyer, not the seller, so if there is a dispute you will need to be ready to provide evidence that you fulfilled your end of the bargain, but again, this rarely happens with wholesale sales.
Other methods: automatic payments through banks are also options, depending on the country you are in. If your country has simplified banking then sometimes it can cost next to nothing to move money between banks, which is ideal as you aren't paying large fees.

Shipping terms: Shipping terms can vary, but the standard terms are as follows:

Dropship: Dropship is when you hold the stock and the store sells it on their website, and you ship directly to the customer when there is an order. Quite a few online stores operate on Dropship only, but you have full control on what you sell and how it is presented, so there are benefits to this. Traditional online stores, department stores, and boutiques do not typically do dropship.
FOB: This is when you will pay the shipping and expenses of the goods up until a certain location, and then the goods become the property and responsibility of the buyer.
Ex Works: the buyer takes charge of the goods while they are still in the warehouse, and they deal with the shipping, duties, taxes, and any brokerage fees. This is recommended for small brands selling internationally as it is not very complicated to manage.
DDP: Delivered Duty Paid is when the brand delivers the goods directly to the store, with all of the costs included (original price of the product, all transportation fees, customs, duties, taxes, insurance, currency conversion, crating, handling and payment fees) except the regional taxes (ex. VAT.) You will need to work with a shipper to do this, and there are fees involved.
Landed: Landed prices are the same as DDP except the wholesale price also includes the regional sales tax. Most stores get their VAT (or other similar tax) refunded to them so they tend to go for DDP prices instead, but some stores may request landed prices. Again, you need to work with a shipper who can help you deliver landed goods.
Domestic: domestic orders are not usually subject to any complicated shipping terms, so you just need to decide if you are charging them for shipping, or if they are providing you with a courier account to ship the goods.

Shipping window: this is the window in which you need to deliver the goods. The standard shipping window is one month but they can be longer or shorter. It is imperative that you negotiate a shipping window you meet, as the final day of the shipping window will be the cancel date. If your goods have not been shipped by the cancel date, the store can cancel the order. It is fair that the stores want to be able to plan their merchandise and have it on the selling floor at full price for as long as possible, so delivering within the shipping window is essential.
Sell through guarantees: Some store will demand sell through guarantees to ensure if they aren't stuck with stock if the product doesn't do well. This can vary from 65-80%. Just to give you an idea, 60% is considered a decent sell through at full price for a new brand, so if you agree to a sell through guarantee, be prepared to accept returns. Firstly, you'll need to negotiate the sell though guarantee percentage but you will also need to negotiate the terms of the return. This can include administration fees and shipping fees. Try and ensure the retailer is paying for these as administration fees are scary (administration fees can mean a lot of things…) and shipping fees can be expensive. You will also want to figure out who makes the selection of what is returned. Ideally you make the decision here, as you'll want to be returned the stock that is most likely to sell for you. A final point of negotiation in a sell through guarantee is timing of the return. You will want the goods back as late as possible in order to give them the maximum amount of time on the shop floor, but at the same time, you want to make sure they aren't in transit for weeks and that they get back to you in time to sell in your own store or at least to put into your sale. Include an expiration date on your return authorization and make sure the retailer is aware of this well in advance.
Swaps: If a store orders an item that is not selling well, they may request a swap. It is recommended to try and accommodate these, as it helps the store's sell through, but if you are going to have strict terms for this, then you need to negotiate these in advance. Terms to consider are what time frame you will accept swaps (in the first month, two months of the season? Up until the end of the season?) and who covers the shipping and handling charges of the swap (the store should cover this.)
Markdown support: Will you be providing any markdown support to the store? This refers to giving them money back (or credits) if they need to markdown the stock at sale. Most will be fine with marking down some of the stock (roughly 35% and less is considered acceptable for most) but if they need to markdown more than this, they may ask for support. This is most likely a request a department store will make (they are always the difficult ones) and it is advised to avoid this if possible.
Reporting: How often will the store give you sell through reports? Some stores do this automatically, others not. While you may not be able to get a firm commitment from small boutiques, be sure to let them know you expect some sort of sell through feedback throughout the season. Department stores and online retailers tend to do these automatically, either weekly or monthly. Be sure to make it clear you want to get sell through reports, as they are an important way for you to understand how the brand is performing. If the sell through is high, you may want to consider offering a re-stock mid-season, if the sell through is low, you may want to reach out to the store and offer to assist on marketing promotions or come in to do staff training. If the product isn't selling well, you'll want to know as soon as possible in order to attempt to improve the situation.
Staff Training: Staff training sessions are an excellent way to spend some face time with the sales staff of the store you are selling to. It is a great opportunity for them to learn about the product and the brand, and it is also an opportunity for you to get feedback from them about the brand's performance. Often the shop floor staff will have sales insights the buyers don't, because they are on the front lines. While stores rarely refuse staff training, you may want to make it clear that it is something you want to do and how often you want to do it (once a year is probably sufficient.) When you do staff training, be sure to come armed with questions you want to ask the shop floor staff – this is your chance to do market research!
Marketing support and placement: It is hard to get a store to guarantee any marketing support, but this is worth trying to negotiate, especially if you are working with a large store or if they are imposing strict terms on you. Here are some of the marketing activities you may want to request:

Mentions on social media (be prepared to offer them assets or imagery to use for this)
Placement in the store and within visual merchandising
Inclusion in their catalogues or magazines
Inclusion in their press days, press mail outs, or gifting programs
Finally, I'd like to stress the importance of feeling comfortable with an order before you agree to fill it. While some people might think the bigger the order, the better, this is not normally the case. While you don't want the store to sell out of the products too quickly, you also want to make sure they aren't stuck with too much at the end of the season. It is advised to try and convince them to take a smaller order if you think their first one is too big. And don't hesitate to make suggestions about the products they are buying. You know your brand better than anyone else, and although the store will know their customer, if you think they have made some bad choices you should suggest some alternative products. A high sell through is one of the best ways to ensure a long-lasting relationship with a store, and you shouldn't assume buyers all know what they are doing. This is especially important if you have a guaranteed sell through, as you'll be stuck with left over merchandise if it doesn't sell.
All photos courtesy of The Sleep Shirt.